Indian Army claims another tactical surgical strike inside Pakistan which martyred 3 Pak Army soldiers
New Delhi: Indian Senior officials have confirmed to NDTV that around five commandos of the Army, possibly a Special Forces Unit, crossed the Line of Control in the Poonch sector of Jammu and Kashmir on Monday evening and killed four Pakistani soldiers. The strike follows the 
killing of four Indian soldiers including a Major
 by a Border Action Team of the
Pakistan Army
in Rajouri on Saturday, said sources.
Sources have described it as a "localised tactical level operation" authorised at the level of a brigadier.
A group of Pakistani soldiers on patrol near a temporary post were targeted. An explosion was triggered near the Pakistani patrol. Some in the group of Pakistanis may have been killed in that blast, say sources. The others were disoriented and taking advantage of that, a small unit of Indian Army battalion level commandos called Ghataks crossed about 300 m across the line of control and shot the rest of the soldiers in the patrol.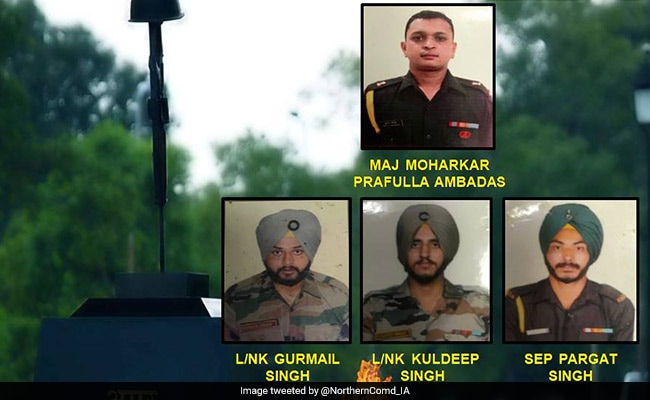 The Indian army officer and three soldiers killed in Rajouri were all in their thirties. 
The Pakistani unit was 59 Baluch, headquartered at Rakhchakri. This battalion comes under the 2 POK Brigade also called the Rawalakot Brigade of the
Pakistan Army
.
The army does not use "surgical strike" to describe the 45-minute operation, which targeted a specific Pakistani post. The operation was "selective targeting", said sources; it was meant to be very limited in scope and meant to achieve a very specific goal. No Indian soldier in last night's operation was injured.

The attack has been described as a replica of that by Pakistanis on Saturday, but there was no mutilation attempt by Indian soldiers.

Sources have indicated to NDTV that the goal was to send a clear message, that if Pakistani soldiers attack Indian soldiers, there will be a definite response.