Pakistan Armed Forces military might show in Islamabad
ISLAMABAD: Pakistan armed forces showed their military might on the occasion of 77th anniversary of Pakistan Day as the nation celebrates the historic event with traditional zeal.
The day, which marked the historic event in 1940 when the Lahore Resolution was passed demanding a separate homeland for the Muslims of the subcontinent, dawned with a 31-gun salute in the federal capital and 21-gun salutes in the provincial capitals.
President Mamnoon Hussain was the chief guest, who arrived at the venue in a horse drawn Buggi, escorted by traditional unit of President's body guards. Prime Minister Nawaz Sharif received the President at the Shakarparian Parade Venue.
Chief of National Defence Forces of South Africa, General Solly Zacharia SHOKE, witnessed the parade as the special guest, which was especially participated by the tri-services troops of People's Liberation Army (PLA) China, a contingent of Special Services Group of Saudi Royal Forces and Meheter Band, the oldest military band of Turkey.
Commenting on the importance of this event, Lijian Zhao, Deputy Chief of Mission Chinese Embassy said Chinese soldiers are proud to join Pakistan Day Parade as it added a new chapter to our friendship.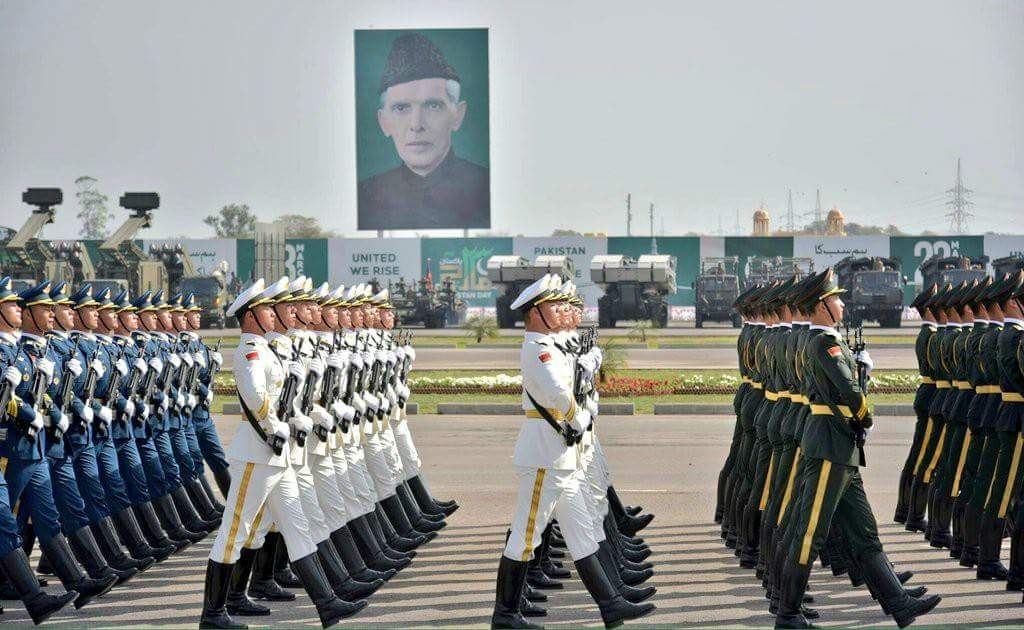 The president in his address congratulated all the participants and the special guests present there. In a strong message to India he said, 'we are a peaceful nation but India with its aggressive attitude has jeopardized the environment'. We are open to dialogue with India on all the disputes including Kashmir, he added.
The traditional military parade was the mega event of the Pakistan Day celebrations that was held at the Parade Ground near the landmark Shakarparian hills in the federal capital. The armed forces displayed their capabilities at the spectacular parade, aircraft flypast and paratroopers jumps, which was witnessed by President Mamnoon Hussain, Prime Minister Nawaz Sharif, defence minister, chairman Joint Chiefs of Staff Committee, chief of army staff, chief of the naval staff and vice chief of air staff and others.
Troops of the parade including foot columns of army, navy, Pakistan Air Force, Frontier Corps, Northern Light Infantry, Mujahid Force, Islamabad Police, tri-service lady officers, tri-service armed forces, nursing service, girls guide, boys scouts, Special Services Group from three services, mechanised columns of armoured corps, artillery, Army Air Defence, Signals Engineers, Army Strategic Force, Command Camel Band and president's bodyguards exhibited their professional worth and skills.
Fighter aircraft of PAF, Pakistan Navy and helicopters of the Army Aviation presented the fly past while there was a heart-warming show by the Sherdil formation, JF-17 Thunder and F-16 (Fighting Falcon) of the PAF.
Skydivers of the three services performed para jumps. The air power show enthralled the audience present at the parade venue.