Donald Trump signs biggest ever defence deal of the US history: White House
RIYADH (AFP) - Washington announced a huge arms deal with Saudi Arabia and took aim at Iran on Saturday as President Donald Trump began a foreign tour looking to leave domestic troubles behind.
The $110 billion deal for Saudi purchases of US defence equipment and services came at the start of an eight-day trip that will also take Trump to Jerusalem, the Vatican and meetings with leaders in Europe.
Trump hailed a series of business deals reached during meetings in Riyadh, with Saudi Foreign Minister Adel al-Jubeir saying they were worth more than $380 billion.
"That was a tremendous day. Tremendous investments in the United States," Trump said at talks with Saudi King Salman.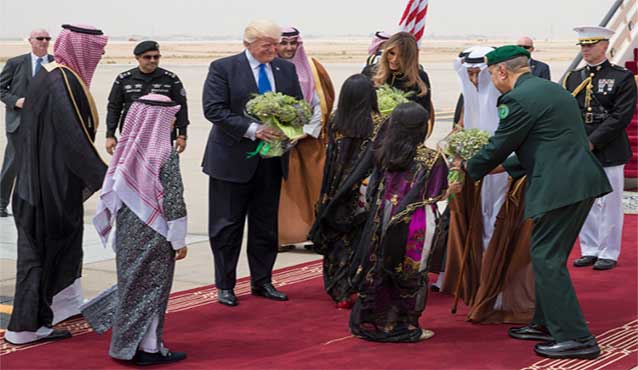 "Hundreds of billions of dollars of investments into the United States and jobs, jobs, jobs."
White House spokesman Sean Spicer said on Twitter that the defence agreement was the "largest single arms deal in US history" and said other deals amounted to $250 billion in commercial investment.
Secretary of State Rex Tillerson said the intent of the arms deal was to support Riyadh "in particular in the face of malign Iranian influence and Iranian-related threats which exist on Saudi Arabia s borders".
Tillerson also urged Iran s President Hassan Rouhani, who won a resounding re-election victory on Saturday, to dismantle his country s "network of terrorism" and to end ballistic missile tests.
Sunni power Saudi Arabia and predominantly Shiite Iran are opposed in a range of regional conflicts including in Syria and in Saudi neighbour Yemen, where Riyadh is leading a military coalition battling Tehran-backed rebels.
- Harder line on Tehran -
=========================
The harder line on Iran will be very welcome in Saudi Arabia and among its Arab Gulf allies, who saw Trump s predecessor Barack Obama as too soft on Tehran.
Trump had been assured a warm welcome in Riyadh, which is keen to rebuild ties with a major ally.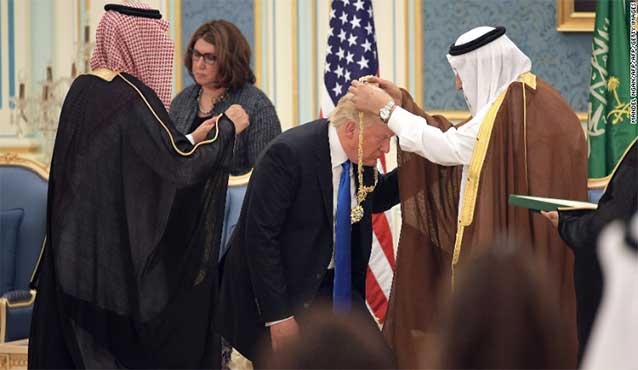 The president and first lady Melania Trump were greeted by King Salman as they disembarked at King Khalid International Airport in Riyadh on Saturday morning.
Trump and his wife, who dressed conservatively in black but did not cover her hair as Saudi women are required to do, walked side-by-side to the tarmac where they both shook hands with the 81-year-old king.
Trump in 2015 criticised then-first lady Michelle Obama for not wearing a headscarf during a visit to Saudi Arabia, saying on Twitter that her hosts had been "insulted".
The mood in Riyadh was in sharp contrast to Washington where pressure is building after fresh claims over the Trump team s alleged links to Moscow.
It was announced late on Friday that James Comey, the former FBI chief fired by Trump, had agreed to testify publicly about Russian interference in the US elections.
Reports also emerged that Trump had called Comey "a nut job" and that the FBI had identified a senior White House official as a "significant person of interest" in its probe of Russian meddling.