How CIA recruits agents across the World from the Nations
WASHINGTON - In perhaps its most audacious and elaborate incursion into academia, the CIA has secretly spent millions of dollars staging scientific conferences around the world. Its purpose was to lure Iranian nuclear scientists out of their homeland and into an accessible setting, where its intelligence officers could approach them individually and press them to defect. 
In other words, the agency sought to delay Iran's development of nuclear weapons by exploiting academia's internationalism, and pulling off a mass deception on the institutions that hosted the conferences and the professors who attended and spoke at them. The people attending the conference had no idea they were acting in a drama that simulated reality but was stage-managed from afar. Whether the national security mission justified this manipulation of the professoriate can be debated, but there's little doubt that most academics would have balked at being dupes in a CIA scheme.
More than any other academic arena, conferences lend themselves to espionage. Assisted by globalisation, these social and intellectual rituals have become ubiquitous. Like stops on the world golf or tennis circuits, they sprout up wherever the climate is favourable, and draw a jet-setting crowd. What they lack in prize money, they make up for in prestige. Although researchers chat electronically all the time, virtual meetings are no substitute for getting together with peers, networking for jobs, checking out the latest gadgets and delivering papers that will later be published in volumes of conference proceedings. "The attraction of the conference circuit," English novelist David Lodge wrote in Small World, his 1984 send-up of academic life, is that "it's a way of converting work into play, combining professionalism with tourism, and all at someone else's expense. Write a paper and see the world!"
The importance of a conference may be measured not just by the number of Nobel prize-winners or Oxford dons it attracts, but by the number of spies. US and foreign intelligence officers flock to conferences for the same reason that army recruiters concentrate on low-income neighbourhoods: they make the best hunting grounds. While a university campus might have only one or two professors of interest to an intelligence service, the right conference – on drone technology, perhaps, or Isis – could have dozens.
"Every intelligence service in the world works conferences, sponsors conferences, and looks for ways to get people to conferences," said one former CIA operative.
"Recruitment is a long process of seduction," says Mark Galeotti, senior researcher at the Institute of International Relations Prague and former special advisor to the British foreign office. "The first stage is to arrange to be at the same workshop as a target. Even if you just exchange banalities, the next time you can say, 'Did I see you in Istanbul?'"
The FBI warned American academics in 2011 to be cautious about conferences, citing this scenario: "A researcher receives an unsolicited invitation to submit a paper for an international conference. She submits a paper and it is accepted. At the conference, the hosts ask for a copy of her presentation. The hosts hook a thumb drive to her laptop, and unbeknownst to her, download every file and data source from her computer."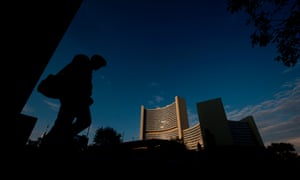 The FBI and CIA swarm conferences, too. At gatherings in the US, says one former FBI agent, "foreign intelligence officers try to collect Americans; we try to collect them". The CIA is involved with conferences in various ways: it sends officers to them; it hosts them through front companies in the Washington area, so that the intelligence community can tap academic wisdom; and it mounts sham conferences to reach potential defectors from hostile countries.
The CIA monitors upcoming conferences worldwide and identifies those of interest. Suppose there is an international conference in Pakistan on centrifuge technology: the CIA would send its own agent undercover, or enlist a professor who might be going anyway to report back. If it learns that an Iranian nuclear scientist attended the conference, it might peg him for possible recruitment at the next year's meeting.
Intelligence from academic conferences can shape policy. It helped persuade the George W Bush administration –mistakenly, as it turned out – that Saddam Hussein was still developing weapons of mass destruction in Iraq. "What our spies and informants were noticing, of course, was that Iraqi scientists specialising in chemistry, biology and, to a lesser extent, nuclear power kept showing up at international symposia," former CIA counterterrorism officer John Kiriakou wrote in a 2009 memoir. "They presented papers, listened to the presentation of others, took copious notes, and returned to Jordan, where they could transmit overland back to Iraq."
Some of those spies may have drawn the wrong conclusions because they lacked advanced degrees in chemistry, biology or nuclear power. Without expertise, agents might misunderstand the subject matter, or be exposed as frauds. At conferences hosted by the International Atomic Energy Agency in Vienna on topics such as isotope hydrology and fusion energy, "there are probably more intelligence officers roaming the hallways than actual scientists," says Gene Coyle, who worked for the CIA from 1976 to 2006. "There's one slight problem. If you're going to send a CIA guy to attend one of these conferences, he has to talk the talk. It's hard to send a history major. 'Yes, I have a PhD in plasma physics.' Also, that's a very small world. If you say you're from the Fermi Institute in Chicago, they say: 'You must know Bob, Fred, Susie.'"
Instead, Coyle says, the agency may enlist a suitable professor through the National Resources Division, its clandestine domestic service, which has a "working relationship" with a number of scientists. "If they see a conference in Vienna, they might say, 'Professor Smith, that would seem natural for you to attend.'"
"Smith might say: 'I am attending it, I'll let you know who I chatted with. If I bump into an Iranian, I won't run in the opposite direction.' If he says, 'I'd love to attend, but the travel budget at the university is pretty tight,' the CIA or FBI might say: 'Well, you know, we might be able to take care of your ticket, in economy class.'" - The Guardian