Turkey Referendum Result: Tayyip Erdogan winning with very narrow margin
Turks have voted to grant President Recep Tayyip Erdogan sweeping new powers in a referendum, partial official results indicate.
With 90% of ballots counted, "Yes" was on about 52.7% and "No" on about 47.3%.
Erdogan supporters say replacing the parliamentary system with an executive presidency would modernise the country.
Opponents have attacked a decision to accept unstamped ballot papers as valid unless proven otherwise.
A "Yes" vote could also see Mr Erdogan remain in office until 2029.
Three people were shot dead near a polling station in the south-eastern province of Diyarbakir, reportedly during a dispute over how they were voting.
About 55 million people were eligible to vote across 167,000 polling stations, and turnout is said to have been high.
How significant are the changes?
They would represent the most sweeping programme of constitutional changes since Turkey became a republic almost a century ago.
Mr Erdogan would be given vastly enhanced powers to appoint cabinet ministers, issue decrees, choose senior judges and dissolve parliament.
The new system would scrap the role of prime minister and concentrate power in the hands of the president, placing all state bureaucracy under his control.
What is the case for 'Yes'?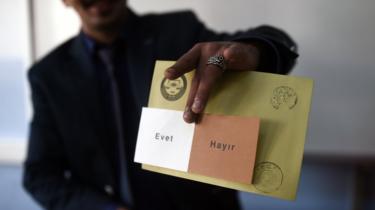 Mr Erdogan says the changes are needed to address Turkey 's security challenges nine months after an attempted coup, and to avoid the fragile coalition governments of the past.
"This public vote is [about] a new governing system in Turkey , a choice about change and transition," he said after casting his vote in Istanbul.
The new system, he argues, will resemble those in France and the US and will bring calm in a time of turmoil marked by a Kurdish insurgency, Islamist militancy and conflict in neighbouring Syria, which has led to a huge refugee influx.
World
---