President NBP opens up a new pendora box against Panama Case JIT
ISLAMABAD – The President of National Bank of Pakistan Saeed Ahmed has opened up a new pendora box against the Panama Case Joint Investigation Team. The National Bank President has written a letter to the Supreme Court of Pakistan about the mistreatment and misbehaviour at the hands of the Panama Case JIT during the interrogation and Investigation process.
National Bank of Pakistan (NBP) President Saeed Ahmad has Saturday written a letter to Supreme Court registrar, and accused the Joint Investigation Team (JIT) of insulting and threatening him contrary to the apex court's order.
NBP president said he was made to wait for five hours before conducting three sessions of interviews. Saeed Ahmad added that he was asked to study a document and write his statement after the initial questioning. He said he was was at the judicial Academy for 12 hours, and was feeling like a convict of a criminal case.
---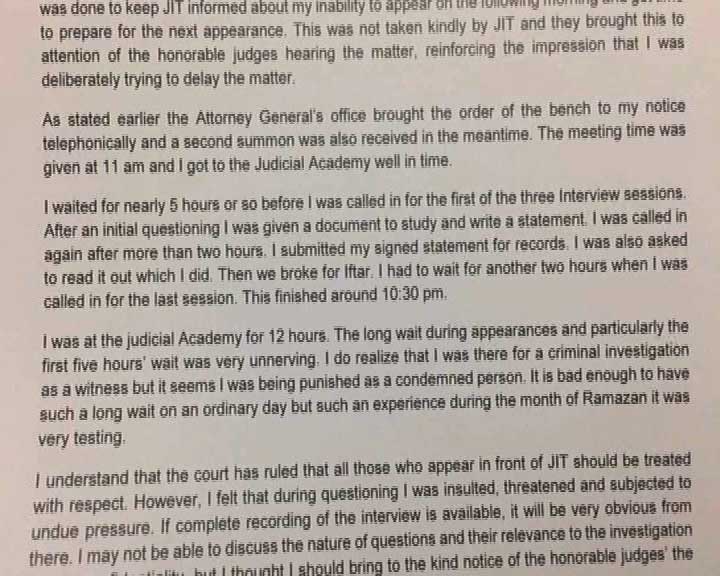 ---
The letter stated, "I waited for nearly 5 hours or so before I was called in for the first of the three interview sessions. After an initial questioning I was given a document to study and write a statement. 
I was called in again after more than two hours. I submitted my signed statement for records. I was also asked to read it out which I did. Then we broke for Iftar. I had to wait for another two hours when I was called in for the next session. This finished around 10:30 pm.
"I was at the judicial Academy for 12 hours. The long wait during appearances and particularly the first five hours' wait was very unnerving. I do realize that I was there for a criminal investigation as a witness but it seems I was being punished as a condemned person. It is bad enough to have such a long wait on an ordinary day but such an experience during the month of Ramazan it was testing.
"I understand that the court has ruled that all those who appear in front of JIT should be treated with respect. However, I felt during questioning I was insulted, threatened and subjected to undue pressure."