Daesh Al-Bakistan: Nip the evil in the bud
Daesh Al-Bakistan written,  Bullet-riddled body of a man who was kidnapped two years ago was found on Monday.'Daesh Al-Bakistan' was written on the clothes.
Reportedly, Umer Mubeen Jilani, son of an ex-civil servant, was kidnapped on June 16, 2014 in Garden Town as he left for his home from office in the night.
---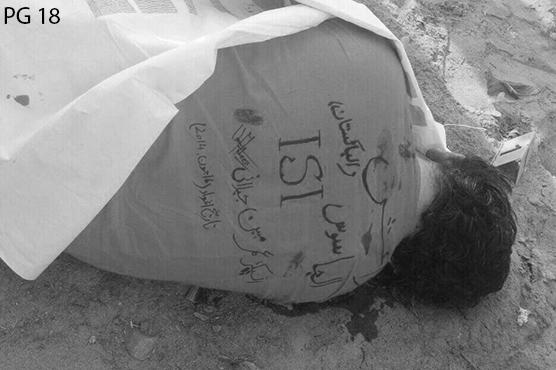 ---
Body of the 33-year-old was shifted to Nishtar Hospital by police. According to the police, the body was dressed in orange, a dress similar to that worn by prisoners in United States prisons.
'Daesh Al-Bakistan', 'Inspector Mubeen Jilani' and 'Tareekh Aghwa (June 16, 2014)' was written on the clothes with a black marker. The writings also suggest that the victim was killed for working for Inter-Services Intelligence.
Preliminary examination of the body suggests that the victim was shot five times.
Zahid Husain Jilani, father of the victim had served as the director general of Cholistan Development Authority.
Late Umer Mubeen Jilani was reportedly also related to former chief justice of Pakistan Tassaduq Hussain Jillani.
Daesh is the Arabic acronym for Islamic State in Iraq and Syria, a banned terrorist outfit.