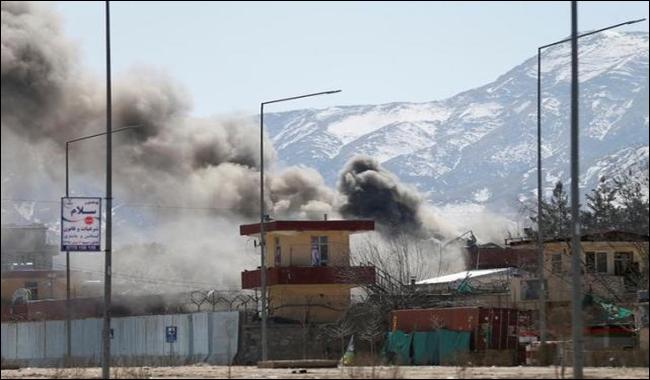 KABUL: Sixteen people were killed Wednesday in simultaneous Taliban suicide assaults on two security compounds in Kabul, as the insurgents ramp up attacks even before the start of their annual spring offensive.
Dozens of others were wounded as explosions and gunfire echoed through the capital city, in a day of carnage that underscores rising insecurity in Afghanistan over the resurgent Taliban.
A suicide car bomber struck an Afghan police precinct in western Kabul and a gun battle ensued after another attacker snuck in, officials said, in a brazen five-hour assault which sent clouds of acrid smoke billowing into the sky.
In the second attack, a suicide bomber blew himself up at the gates of an Afghan intelligence agency branch in eastern Kabul while another assailant was gunned down while trying to enter the compound, officials added.
"Fifteen people were killed in the attack on the police compound, with 43 others wounded," health ministry spokesman Waheed Majroh told AFP.
"In the second attack, one person was killed and another was wounded."
The Taliban claimed both assaults, with spokesman Zabihullah Mujahid calling them "martyrdom attacks" in a Twitter message.
Afghan police and troops are battling an emboldened Taliban as the insurgents escalate nationwide attacks, even in winter months when the fighting usually wanes.
The violence comes ahead of what is expected to be an intense new Taliban fighting season in the spring as the government´s repeated bids to launch peace negotiations have failed.
But in a statement condemning the attack, President Ashraf Ghani said the Taliban were "launching such attacks to raise the morale of their fighters" after the recent killing of insurgent commander Mullah Salam.
Salam, who twice oversaw the capture of the strategic northern city of Kunduz, was killed on Sunday in a US air strike in a blow to the militant group.
More from this category
---